Creating a Stripe Account
What is Stripe?
AccuSkills allows you to create and sell classes and online courses to your students. When you create each class or course, you can choose whether you want your institution to pay on the student's behalf or you can set a price for each class or course to charge your students.
Stripe allows students to pay for your classes and courses with credit cards, debit cards, and bank transfer.
Stripe is a credit card processor that full integrates into AccuSKills and accepts student's payments when they join your classes and courses. Students can pay with credit card, debit, or direct deposit from their checking or savings account. Stripe will deduct their credit card processing fees and any AccuSkills fees, then direct deposit your earnings into your bank account.
There is no upftont fee to use Stripe other than the industry-standard fee of 30¢ + 2.9% of every transaction.
Stripe gives you complete control and privacy over your transactions through an integrated dashboard. Issue refunds, manage chargebacks, and track your payments and deposits from directly inside AccuSkills. Stripe operates in over 25 countries, accepts multiple currencies, and provides robust fraud protection services.
How to Integrate Stripe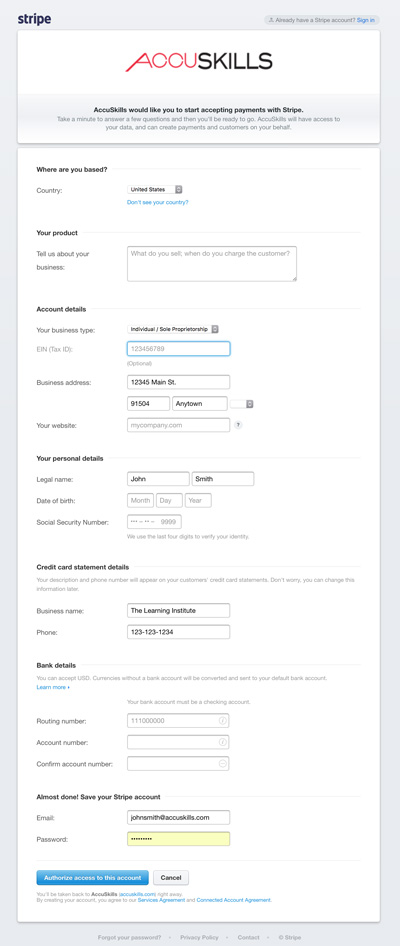 When you create a new institutional account with AccuSkills, you will be required to set-up your linked Stripe account. During your AccuSkills registration process, you will be redirected to Stripe to create your account, then returned to AccuSkills to complete the set-up.
Stripe will require the following information during the account set-up process:
Account Set-Up
Country*
Product Description - What you plan on selling to your customers (online education)
Account Details
Stripe will send a 1099-K for any accounts that exceed IRS reporting limits.
Business Type: Corporation, Individual/Sole Proprietorship, non-profit, partnership, LLC
EIN/Tax ID
Business Address*
Your Website
Personal Details
Legal Name*
Date of Birth
Social Security Number
Credit Card Statement Details
Your description and phone number will appear on your customers' credit card statements. Don't worry, you can change this information later.
Bank Account Details
Currencies without a bank account will be converted and sent to your default bank account. Stripe will direct depost your net profits directly into this account.
Routing Number
Account Number
E-Mail Address*
Password*
* These fields will be pre-populated from your AccuSkills registration process
DOWNLOADS
View a screenshot of the Stripe sign-up form
LEARN MORE ABOUT